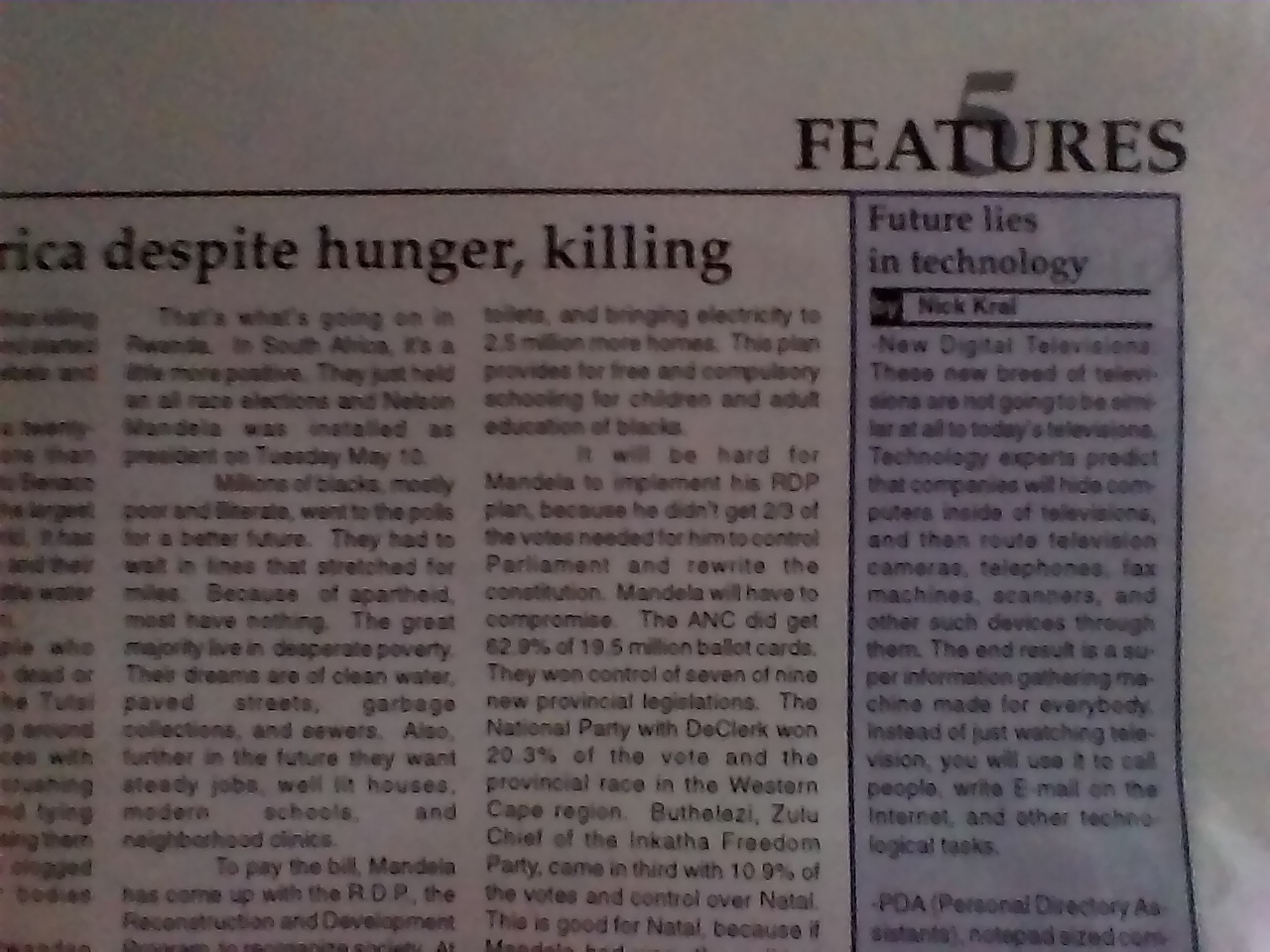 On a recent trip to my parents I unearthed a June 3rd, 1994 issue of our school newspaper The Quill. In this issue a young, naive technology columnist by the name of Nicolas Kral made predictions of the technology would be commonplace in the future. I contend that 2014 sufficiently counts as the future, and that we can now judge if there was any merit to this so-called sooth sayer.
New Digital Televisions: These new breed of televisions are not going to be similar at all to today's televisions. Technology experts predict that companies will hide computers inside of televisions, and then route television cameras, telephones, scanners, and other such devices through them. Instead of just watching television, you will use it to call people, write E-mail on the Internet, and other technological tasks.
FALSE. What this joker has correctly predicted is the iPhone; minus of course the fax machines, because we do not use fax machines in the future which is how we know it is the future. However, the correct answer to televisions of the future is "the screen will be bigger and in 3D and have way better picture. And we will still refer to cable and broadcast, because they refuse to die."
PDA (Personal Directory Assistants): Notepad sized computers that accept handwritten text, and make personal computing easy. They will be able to do everything from word processing to translating speech into a foreign language.
TRUE if you live in 1999. Way to not see the iPhone coming, buddy. Oh right, you thought you were going to carry 46" televisions around to make phone calls. Also, did you think we'd have the universal translator by now? How naive.
"Talking" To Computers: This is already a reality. The latest sound cards for IBM compatible computers allow people to communicate through a microphone. Something very close to being completed is a computer that converts what you say into a foreign language.
What is with you and  the universal translator? Did you struggle that much through Spanish class? Clearly the Star Trek technology that won was the the communicator, not the universal translator. Today in the future we talk to watches and our phones, or as you call them, "televisions".
Interactive Movies: Many people see this as the future of movies. Instead of seeing your favorite hero blow away the bad guys, you could waste the bad guys yourself. This is an emerging technology, with a few "interactive movies" already out on CD-ROM.
OH NO HE DID NOT SAY CD-ROM INTERACTIVE MOVIES ARE THE FUTURE, DID HE?? Why not just say "In the future, all movies will be Myst and The 7th Guest?"
The correct answer to movies of the future is "the screen will be bigger and in 3D and have way better picture." Is that what I just said about television? That is why movies don't have much of a future.
The New Home Office: Many people see computers as the demise of the workplace. People could use computers to do all the paperwork they do in the workplace at home. Something that is being worked on is video conferencing. Video conferencing is where people can attend a meeting from another area, using a video camera and a satellite hookup. People are currently working on a program that lets two people talk to each other with a video linkup, while having a computer scratch pad to demonstrate ideas at the same time.
Okay, good job – you predicted Go To Meeting. I admit I used teleconferencing multiple times last week, and it allowed me to attend meetings while visiting my parents. However, the 'demise of the workplace' is way off. The truth is that teleconferencing and iPhones allows for the work to extend outside of the office and into every other area of your life. Thanks to technology you cannot escape your work place; it follows you home, to the lake, or over an ocean.
In conclusion, me from 1994 failed to foresee the technology of our future, or that there would be a Teenage Mutant Ninja Turtles movie in 2014. With Megan Fox no less!